I am one stressed rosie.
I have no time for myself, let alone anyone else. Steve is feeling neglected, but I did warn him I'd be stressed. And I really don't think I'm being out of order by saying that, well, at the moment it really is
all about me
. Today is the my graduation; a celebration of
my
past 3yrs. A chance for my parents to be proud of
me
and a chance for me to say my final goodbyes to a lot of people and a lot of aspects of my life.
I've been packing since 10am yesterday and I'm on the verge of being done. It's been horrendous.
I took
my pinboard
from my wall and started taking bits off it to box away... gig tickets, cinema tickets, letters, postcards, photos, businesscards... I ended up disintegrating into a tearful mess as each one hammered in the realisation that this is the end of my life as I know it. The end of this university chapter. And that, well, it's never really going to be the same again.
I'm not saying it's all going to be downhill from here, but it's just not going to be
the same
.
Claire walked past my door and I wailed
"Why c-c-can't we st-stay another y-yeeear?!"
She shrugged an apology, and just hugged me. Steve appeared a bit later and as he popped his head into my room he discovered my tear-stained face attempting to smile at him... so he just grabbed me into a hug too, which was exactly what I needed.
When I left home three years ago, this was my packing: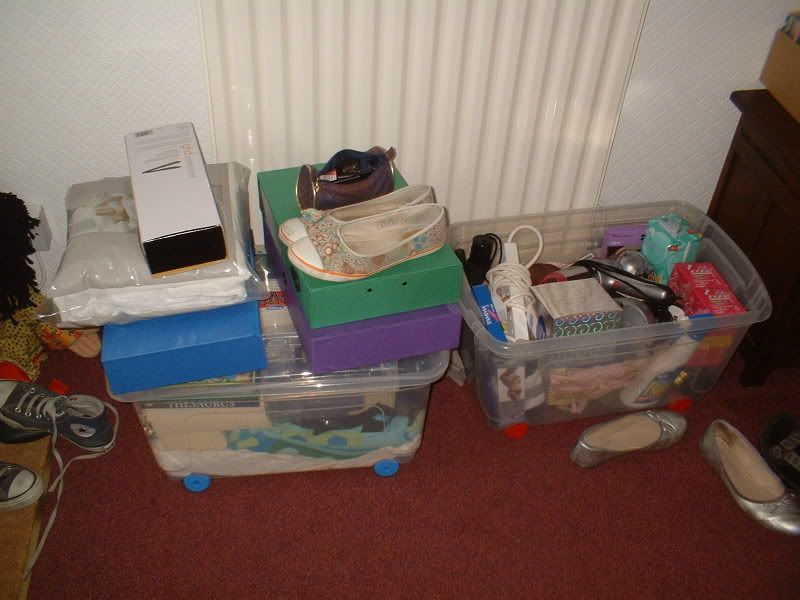 But by then end of today I have double that amount, despite filling 3 bin bags and having another full bag for the charity shop:
Highlight of the day: Sorting out my
fancy dress
box.