I've been back in Leamington for another flying visit. This time it's been for 4 days. During those 4 days I have succeeded in creating an amusing trail of destruction with Becca; my partner in crime.
It's a bugger, you know? Every summer we all return from our various universities dotted about the country. We're old friends, so we hope we'll all fit back into each others' pockets. We think we've not changed; we've all been living a similar university experience. But we all know that the friendships we leave behind in our student houses, are very different to the friendships we rediscover during the holidays. It's only now, when we're on the verge of leaving each other again, that we manage to reform that inseparable closeness.
We
needed
that holiday, all three of us. And we had
such
a fantastic time. We did some absolutely stupid/crazy/reckless/hilarious things, that I could only really do with those two. Now we're back, the hilarity has continued, the drinking has continued, and the reminiscing is fantastic. We're on the verge of pushing out any other friend who attempts to socialise with us because, you know,
they just weren't there!
The In-Jokes:
Alice-de-la-Dare
- Alasdair's name before his sex change. Who, apparently, I am
cloned
from. After a conversation about cloning in which Bex and Caroline decided that there was a whole clonal civilisation in England who are responsible for all menial labour - "Like the polish". Alasdair, unsurprisingly, doesn't find it as amusing as we do.


Did you know Mohamed can move the Pyranese?
- A guy who is in love with Becca told her that he would "move mountains" just to see her. This, of course, lead onto a conversation about Mohamed, and what the saying was about mountains... and then something about a donkey and a minaret...


"They love... but for... just one night!"
- One evening, the AquaGym instructor bought us all drinks, attempted to dirty dance with us, told us our perfume smelt nice... and then realised that we were having none of it, so worked the same "magic" with another lady, Sandrine, who was substantially more pissed/desperate than us. We were told, however, that it would only last one night, but the french man telling us this wasn't quite sure of the wording for "one night stand"!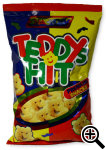 TEDDY HIT!
- Probably the most un-cool of all our moves, it involves a shout of "Teddy hit!!" and a high-five-esque gesture. All because we found some crisps in a shop amusingly called Teddy's Hit. Obviously this lead to much hilarity... Teddy shit? Teddy's drug hit? And eventually, a Teddy Hit high-five.
A Hat Called Medhi
- Throughout the holiday we were befriended my most of the site staff. The
animateur
, Medhi, especially grew fond of us and vice versa. He had a hat... but he no longer has that hat because I may have quite possibly stolen it from him on the last night, as a souvenir. The hat is now called Medhi, and it generally goes most places with me. The photo shows Medhi, on the
monkey mole rat horse squirrel.

The Rabbit Monkey Mole Rat Squirrel Lemur
- A stuffed toy resembling the nut-eating animal in Ice Age. It appeared in our room at Becca's Aunt's house, and we somehow could never refer to it as the same animal twice... and so it became them all. Now, most animals are referred to in such a way.
There is also, of course, the random shouting of french words such as "
Alleeee!"
and "
Sex-see!"
. Every time we chink glasses we sat "
Bon sante!
". Faux french accents litter our conversations. And we've taken to kissing on both cheeks...
This is a holiday we're not planning on letting go of for a long time. And they are the friends that I refuse to be torn away from. Becca and Caroline are back again. Cack in my life and we re-know each other inside out. I think more visits to Brighton are in order.